---
---
Lun-Yi Tsai
, Lecturer
Department of Mathematics
University of Miami
Office:
Ungar 501
Email:
ltsai <at> math (be sure to tack on .miami.edu for the full email address)
Email is often the best way to contact me.
Office Phone:
305.284.2724 (please don't leave voicemail, leave email instead)
Office Hours:
On Leave Fall 2013
art website:
www.lunyitsai.com
sculpture website
:
www.londontsai.com
---
Teaching

Fall 2013

On Leave

Why you should take
MTH 113 Finite Mathematics with a Special Emphasis on Math & Art
.
Lowe Art Museum Tour
A New Approach to Window Taping for Linear Perspective, Spring 2013
The Original Window Taping Activity for Linear Perspective
---
---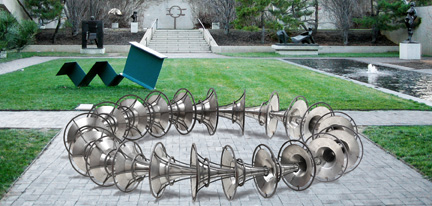 ---
Lun-Yi London Tsai
Telephone, a proposed outdoor sculpture installation
2009, welded steel bar and sheet metal
32in x 15ft x 15ft (each component, 32 x 32 x 36in)

---

Thanks to Ken Baker for letting me adapt his simple and elegant webpage template.